Need posters and signs with gorgeous, eye-popping colours that shout "Look at me!"? Or perhaps you're printing fine art or pop-art that only long-lasting, vivid colour can do justice? Or maybe vibrantly coloured wrapping paper is your thing? If so, this could be right up your street!
This week Canon proudly launched the new imagePROGRAF GP-200, GP-300, GP-2000 and GP-4000 printers, a range that use a mixture of regular colour inks and the Worlds first aqueous pigment fluorescent inks to produce images that you simply cannot ignore.
The GP-200 and GP-300 use 6 colours to deliver premium-quality posters that make a lasting impact with a newly developed fluorescent pink ink, capable of producing neon and pastel shades. The GP-2000 and 4000 use 11 colours to produce superior, wide gamut prints and feature five new colours – red, orange, green and violet – plus the new fluorescent pink.
Create posters in Canon's free PosterArtist Lite software and you can fill areas and even spot-colour parts of your design to achieve neon highlights where it counts.
Got a print-job that doesn't require fluorescent colour? They're ideal for that too…The choice is yours!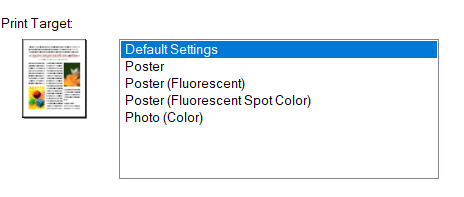 If you need more Canon GP series information, head over to Wide Format Graphics Printers – Canon UK
Canon imagePROGRAF GP series – Simply breathtaking