The Canon imagePROGRAF TM series are extremely quiet, in fact they're a massive 60% quieter than the iPF series of Canon printers. This makes them the ideal choice for small offices and sound sensitive environments. But how was this huge reduction achieved?
Here's how…
1: As before, the media is held securely against the platen by means of a vacuum to ensure that it is absolutely flat when it passes through the printer. The clever guys at Canon realised that by incorporating a dampening structure or baffle into the platten vacuum exhaust section, the noise is substantially reduced.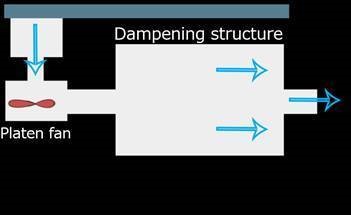 2: By speeding up the cutter blade rotation, it greatly decreased the vibration of the media and therefore generated less noise…it also gives a cleaner cut!

Canon is unceasing in its investment into R&D and it's commitment to giving your customers products of quality, value for money and peace of mind… but we also know the value of peace and quiet!
Canon imagePROGRAF TM series – Big prints, very little noise.