Is your Canon ImagePROGRAF large format printer out of warranty….?
Onsite Service Contracts – Onsite Repair with Pre-Agreement Inspection plus access to MyLFP Support Desk, this means not only will your machine get a service but you also have the benefit of breakdown cover for a year afterwards! T's & C's Apply.
Remember, MyLFP.com has got you covered…
An independent, free to use dedicated support website for all Canon ImagePROGRAF Large Format Printer users, information on all current Canon imagePROGRAF range, product information, brochure & driver downloads.
If you have an issue why not check out our FAQ page or post a question on the forum and our tech guys will give you some advice.
Last but not least our video page allows members to look at hints and tips videos including printer driver settings and how to videos on many subjects which will be added to regularly.
MyLFP.com has got you covered…
Access support materials and stay informed: Registering with MyLFP is 100% FREE and will allow you to:
Register your printer warranty (UK Only)
Book service calls (UK Only)
Browse frequently asked questions
Access to unique support videos
Simple links to find all Canon LFP drivers
Engage with other Canon LFP users in the member's forum
Receive technical updates from the MYLFP support desk via the news feed and the "did you know page" (coming soon)
Browse the latest models from Canon and gather information on running costs and possible upgrade opportunity's
Don't delay register on MyLFP.com today!
If the first part of your serial number falls within the serial number catchment below then you are able to purchase an L24 (if you have the iPF670) or L36 (if you have the iPF770) to turn your printer into a fully functioning MFP system!!!!
iPF670 – BACR
iPF770 – BACH
Contact your Canon authorised re-seller for more details
Your serial number is located on the rear of the printer and will be 4 letters (which you need to match to the above) followed by 4 numbers, please see below for reference: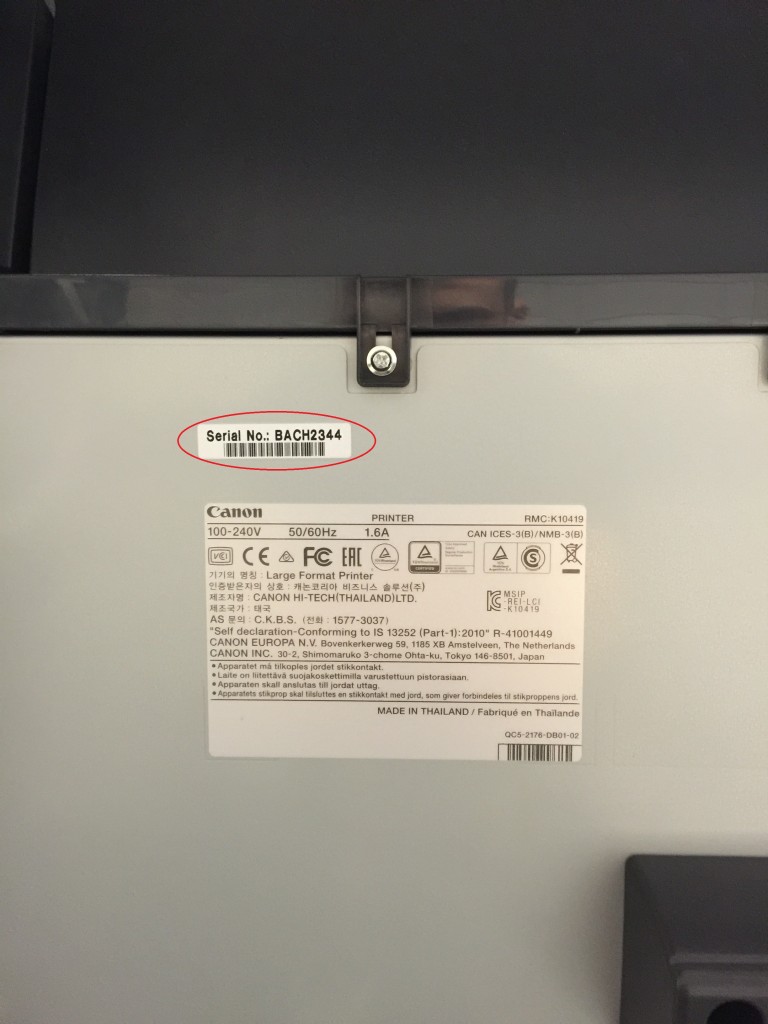 Canon's UK distributor, Velmex Distribution saw record Canon LFP sales during 2015.
'In 2015 our Canon printer sales increased by around 20% compared to the previous year' said Mark Keeley, Managing Director of Velmex Distribution. 'Canon also saw significant growth across Europe with record market share in almost all territories'.
Keeley also explained what was behind this success 'We are seeing sales increase as more customers become aware of the benefits of using Canon technology. Our sales are particular strong with users upgrading from other manufacturers large format printers to Canon. These experienced users quickly identify the key benefits Canon printers offer, print quality, speed, reliability, software tools and total cost of ownership. Our success has not been limited to any one market sector as we have seen sales increase in the technical (CAD market), production printing, photographic and fine art markets'.
Keeley was also optimistic looking forward to 2016. 'We are also forecasting a very strong 2016 as Canon introduce new models across the range. For the technical & copy shop market we are introducing the Canon imagePROGRAF iPF670 MFP L24 and Canon imagePROGRAF iPF770 MFP L36 multi functional devices. These are 24" (A1+) and 36" (A0+) respectively which can print, copy, scan to archive & scan to email. The new MFP's offer low cost of ownership, a small footprint design with ease of operation'.
'Later in the year we will launch the Canon imagePROGRAF PRO series of printers. The first model to launch will be the Canon imagePROGRAF PRO 1000, an A2+ size cut sheet model for the photographic market. This new model will be quickly followed by four new larger printers, the Canon imagePROGRAF PRO 2000 (24") & Canon imagePROGRAF PRO 4000 (44") printers for the photographic & fine art markets. Alongside these new models we will also be introducing the Canon imagePROGRAF PRO 4000S (44") & Canon imagePROGRAF PRO 6000S (60") printers designed for high volume, production environments. All these printers will use the new Canon LUCIA PRO ink set which offers stunning print quality, fast dry times with high durability'.