The Canon imagePROGRAF PRO and TX range have super intelligent paper feed systems, but sometimes the media itself can be being poorly loaded on the roll or very loose. This can cause paper feed and print errors due to the media not being straight, otherwise known as "skewed".
Although the printer's automatic Skew Detection will usually de-skew the media without intervention, this error can also be due to the Skew Detection Accuracy being incorrectly set. Customers can easily reset the Skew Detection to Standard by following these simple steps…
On the Touch Screen LCD simply tap the paper that is skewed (Roll 1 or 2) to open the sub menu:
Tap Advanced
Tap Skew Detection Accuracy
Select Standard
In extreme circumstances realigning the media may require manual intervention by lifting the media cover and paper lever and then straightening the media against the orange line on the right of the platen (A). To make life even easier, the touch screen LCD panel will guide them through every step.
To enhance and support the ongoing success of the new Canon imagePROGRAF TM series, please click here to watch a video to help enable you to quickly and easily absorb the benefits of the powerful TM-200 L24ei MFP and TM-300 L36ei MFP series scanners.
The benefits are:
New, colour, touch screen control.

Small and ultra-quiet, ideal for the noise sensitive environment.

Scan documents while printing, no need to wait.

Scan documents to PC, Copy, Cloud or save direct to a USB stick.

Scan small documents and enlarge them to poster size, brilliant for office presentations, etc.

Long lasting, water resistant pigment inks mean prints stay sharp and crisp in UV rich or damp environments.
The ability to easily print from a USB stick is also a massive "user favourite" feature of the TM series, as well as being a huge hit with the owners of the PRO and TX machines…accessibility and ease of use has never been so simple.
To learn more about the TM-200 L24ei MFP and TM-300 L36ei MFP, please use the links below:
Almost all products have a competitor & the new Canon TM Series is no exception.
An independent, professional test comparison was conducted by Buyers Lab International (BLI), where they tested the new Canon TM-200 against the Epson SureColor SC-T3200.
Out of the 7 main test criteria the Canon TM-200 was superior in 6, and equal to the Epson SureColor SC-T3200 in 1:
Superior Image Quality

Superior Print Productivity

Superior Ink Consumption

Superior Direct Print Submission Functionality

Superior Device Feature Set

Superior Print Driver Feature Set

Equal Printhead Reliability/ Cleaning Routines 
"Overall whilst producing better image quality overall while printing at faster speeds the Canon TM-200 also used less ink than the Epson SureColor SC-T3200. Better feature sets and direct print functionality were also deciding factors in establishing the Canon TM-200 as the superior printer"
Canon printheads are incredible precision instruments, so the actual alignment is crucial to achieving the professional results that only Canon printers can.
Occasionally, all large format printers may experience slight misalignment of the printheads resulting in fine lines or misplaced colour on the print where the printhead has shifted microscopically. Possibly due to vibrations when the printer is being relocated.
The remedy for misalignment couldn't be easier, and your customers can be printing fantastic results within seconds, with no technical know-how required.
On the PRO and TX series for example, your customers can execute the following sequence via the touch screen LCD on the printer:
– Tap Maintenance
– Tap Print Head Alignment
– Select Auto (standard) or Auto (fine)*
– Confirm Yes and select the paper source
A test pattern will be generated while the printhead is realigned automatically by the printer.
That's all there is to it…job done! Isn't that easy?
Summer is past us and winter is here, which means that it has come to time of the year where you should consider re-calibrating your printers. This is because the seasonal change in temperature and humidity may cause the colour representation to change slightly and to ensure the best and exacting results time after time, calibration becomes essential at this time of year.
Canon have recognised how important it is to obtain the same fantastic results time after time, so they developed and integrated a very easy to use and clever colour calibration feature into the Canon imagePROGRAF graphics machines to compensate for those changes.
Executing a colour calibration operation from the printer control panel will firstly get the printer to print out a test pattern. This is then automatically read by the printer sensor to instantly set the correct colour values. It really couldn't be easier. On the PRO-Series printers for example, simply tap 'Maintenance' on the LCD screen, then tap 'Colour Calibration' and then 'Auto Adjust'. Click 'Yes' to confirm and sit back and relax and let the printer do the rest!
In just a few minutes, the whole process will be complete and you can be sure that your prints remain faithful to the original artistic vision. Of course, it is best to repeat this action again once the season has changed once again and the weather starts to get really hot and humid.
If you got any questions regarding this please email support@mylfp.com.
Canon has launched the new imagePROGRAF TM Series of large format inkjet printers for customers producing CAD, GIS and poster applications. The new printers address the needs of customers in the corporate, construction and engineering, retail, education and government sectors, enabling them to produce high quality drawings, maps and posters on demand, in-house.
It has been designed to meet demand for a productive, robust, large format printer for business environments that require smaller volumes of high quality prints, with a compact footprint and less noise.
The new printers are built on the proven technology of the large format imagePROGRAF TX Series, which has been very successful in the market since its commercial launch in December 2017. The new imagePROGRAF TM models add to Canon's large format technology portfolio, which also includes the imagePROGRAF PRO Series for photographic and fine art applications.
The new imagePROGRAF TM Series features eight different models, all aimed at customers printing low- to mid-volumes. The five 36-inch models are: TM-300; TM-305 (with built-in HDD and PDF support); TM-300MFP L36ei (multifunctional printer with low-volume scanning solution); TM-300MFP T36 (multifunctional printer with higher scanning solution); TM-305MFP T36 (high performance multifunctional printer). The three 24-inch models are: TM-200; TM-205 (with built-in HDD and PDF support); TM-200MFP L24ei (multifunctional printer with low-volume scanning solution). 
Designed for office environments
The imagePROGRAF TM Series are compact and quiet devices optimised for space-constrained office environments. The printer's footprint is as small as 982 x 887 mm for the TM-200/205 models, a reduction of 9% compared to the imagePROGRAF iPF Series.
The new imagePROGRAF TM Series has been developed to meet the demands of quieter office environments to ensure minimal distraction. Without compromising on high productivity, enhancements have been made to some primary noise sources; the Platen Suction Fan now includes a damping structure; the media Cutter cuts cleaner which reduces vibrations; the Media Feeding technology has been developed with the line-feeding motor being slowed and motor pulley diameter being enlarged to also reduce media vibrations. The enhancements have contributed to a reduction in noise by 60% in comparison to the imagePROGRAF iPF Series.
The intuitive operation panel means that users do not require training or specialist skills to operate the device, enabling employees to produce high quality prints in the workplace with ease.
The new imagePROGRAF TM Series aims to make it easy to produce creative and complex applications, with the newly improved software tools. PosterArtist V3.0 poster creation software helps operators to produce multi-lingual posters with over 900 expressions in 10 different languages and using over 350 templates and images, while Free Layout Plus offers a template tool for the design of folded posters.
The new printers also offer strong security features, including secure authentication and user controls, ensuring they are fit-for-purpose for large corporations or government offices requiring tighter security functionality.
High print quality
The imagePROGRAF TM Series boasts Canon's LUCIA TD 5-colour pigment inks. This unique ink, which includes MBK with high surface tension, produces lines and text that are dense and crisp with minimal feathering. Vibrant colours can also be produced from LUCIA TD ink with pigments staying closer to the media surface. This enables customers to economically print high quality documents and posters on inexpensive uncoated plain paper.
The LUCIA TD water resistant 5-colour pigment inks used for the imagePROGRAF TM Series can print on water resistant media, offering immediate benefits for customers producing plans and drawings that need to be viewed outside, or creating posters for outdoor use.
Canon offers a range of optimised water resistant media, including polypropylene and adhesive vinyl, for banner and poster displays. Outdoor poster applications produced with the imagePROGRAF TM Series can withstand wet weather conditions for up to six months without additional lamination, further increasing productivity and reducing costs for outdoor prints.
Optimal productivity
With the imagePROGRAF TM Series, businesses have the capability to produce CAD drawings, GIS maps and posters on demand and in-house, reducing outsourcing costs and response times.
For continuous printing of drawings on A1 landscape plain paper in the fastest mode, the imagePROGRAF TM-300/305 can produce 144 prints per hour, which represents an increase in speed of up to 23% compared to its predecessor, the imagePROGRAF iPF Series, thanks to improved print head scanning and reduced time between processing each print.
'Hot swap' ink tanks enable users to replace inks during printing for continuous production. There is also the option to add one of Global Scanning's fast, high quality scanners, including the T36 scanner with a user-friendly touchscreen display, to the imagePROGRAF TM Series creating the perfect multifunctional office companion.
Michele Tuscano, Director Large Format Printing & Partner Channel at Canon Europe, comments: "Today, customers in many business and public-sector environments want to produce high quality large format prints on demand and need to keep external costs down. We identified an opportunity to create a product optimised for businesses with lower print volumes who can still benefit from having their own large format inkjet printer."
"The imagePROGRAF TM Series offers these customers high performance and high speed, with unbeatable image quality for promotional posters, as well as the sharpness required for complex CAD drawings. The intuitive user interface and new software tools mean any employee can quickly and easily produce prints of the quality they would expect from an external supplier. With less noise, this makes the printers barely audible to co-workers."
Check out the product introduction video: https://youtu.be/ajewDaYRLCA
The new Canon imagePROGRAF TX series can process CAD data, including HP-GL/2 – up to twice the speed of previous models thanks to the incredibly powerful dual Canon L-COA PRO processors built into every printer in the range, leading to tangible productivity gains that mean less time spent waiting at the printer and more time designing and generating business for your customers.
Canon developed the original L-COA chip specifically for large format printers in order to process high-volume image data at high speed, while simultaneously controlling the image processing and printer functions, and still output incredible high-definition prints.  An amazing feat of engineering developed entirely in-house based on Canon's heritage in producing image processing engines for scanners, printers and our vast range of photographic equipment.
The dual L-COA PRO does all of this, with rendering capabilities that are at up to twice as fast of their predecessors. The imagePROGRAF TX series is truly a real-time 
and money saver.
Check out the TX Series Introduction Video Here: https://staging.mylfp.com/Videos/canon-tx-series-overview-video/
The brand new Canon PRO-6000 60inch Photo and Fine Art printer has a wealth of advantages over the Epson SC-P20000 model and is perfect for any quality-conscious customers looking for the
ultimate in high definition inkjet printing. The PRO-6000 is smaller, comes with nearly four times as much ink in the box as the nearest equivalent Epson (that's almost 4 litres of ink worth a staggering £1,800 at RRP) and produces images that clearly and easily demonstrate why the Canon imagePROGRAF PRO series cannot be equalled in the large format inkjet market.
With class-leading running costs and ink usage of up to 25% lower than its Epson rival, the new imagePROGRAF PRO-6000 is, pound for pound, the heavyweight champion of high-end photo and fine art printing.
See below for a comparison on how the two machines stack up against each other:
International fashion illustrator Megan Hess, famous for illustrating the best-selling novel Sex and the City, is using Canon's PRO series of imagePROGRAF printers to bring her printing in house,
which she says gives her more control over the finished product. "The benefit of printing in house is that I can keep a close eye over the detail, which is a fundamental aspect of my design
process. Partnering with Canon gives me the peace of mind that the exact colours, the line work, and detail is reproduced precisely as I envisioned it," she said.
Megan uses the imagePROGRAF PRO-1000 and imagePROGRAF PRO-2000, to produce her prints. She believes her work increases in value when printed, saying "In our automated and digital society anything that's hand drawn, handmade, hand crafted or hand printed becomes really valuable. I'm excited to be part of the printing process using Canon because I know my work is truly valued when it becomes a piece of tangible art, or is something I can share with someone."
Check out this YouTube link to see Megan share how she uses Canon imagePROGRAF printers to create beautiful artwork for her clients – https://staging.mylfp.com/Videos/megan-hess-and-the-power-of-print/
Canon Europe has launched its new 12-colour 60-inch large format professional inkjet printer to complete the award-winning imagePROGRAF PRO series. The PRO-6000 offers unsurpassed photo printing with a 12-colour ink system, dual-roll printing for excellent productivity and a space-saving design.
The PRO-6000 is consistently superior in print quality
The wide colour gamut of the PRO-6000 enables photographic output of exceptional quality, which is now available in 60 inches. Ideal for advertisements, graphics, and posters for indoor and outdoor use, the PRO-6000 features the newly developed LUCIA PRO pigment ink and transparent Chroma Optimiser ink for printing with excellent colour expression, superior black reproduction, good gloss characteristics and suppression of bronzing. Thanks to Canon's unique input-output technology and Crystal-fidelity feature, photos look as accurate printed as when they were captured, thus meeting the demands of the most critical photographers and graphic arts designers.
Unbeatable efficiency and productivity
The newly developed Multifunction Roll System enables unattended use for multiple purposes using different media types with a single printer. In addition, simultaneous loading of the two types of black ink allows loss-free and automatic ink switching across various media. With a powerful L-COA PRO high-speed image processing engine, the new PRO-6000 is capable of processing large volumes of high-res images and data with ease. As a result, the new device enables poster-quality printing at a faster speed of current imagePROGRAF 12-colour models. Full connectivity and Wi-Fi functionality ensures optimum productivity for busy environments through seamless integration with existing networks. The compact design of the PRO-6000 also makes it ideal for space-pressed print operations and other businesses that had forgone the introduction of a large format printer.
Hiroaki Shirakawa, LFP Product Management Manager, Canon Europe, states: "The imagePROGRAF PRO series is dedicated to a high balance between print quality and productivity. Efficient media handling, and high-speed uninterrupted printing to support high-volume output are fast becoming fundamental requirements for both print-for-pay and print-for-use environments. As an imaging company, we understand the importance of fine detail and precise colours to professional users. For discerning photographers and graphic artists, the stunning quality output and powerful technology of our 12-colour devices is unmatched by the competition. Naturally, we are very excited to have completed the PRO suite of printers and to begin rolling out the new imagePROGRAF PRO-6000 this year."
Award-winning landscape photographer Andy Farrer has always been a fan of printing his own work, but when he had to outsource larger work than his Epson A2 printer could produce, he found that the prints were decidedly better quality than his own.
Keen to discover how his printed images could be improved, Andy found that the prints came from a Canon Wide Format machine. After taking in a Canon PRO–2000 for trial and review, he was so impressed that he purchased a 44" PRO-4000 and 17" PRO-1000 for cut sheet work, outright, and set up a printing studio to add a profitable new revenue stream to his photography business.
For Andy, the Canon printers have brought a whole host of benefits such as improving print quality, lowering printing costs and making the whole printing process quicker and easier, with great features such as zero-waste black ink switching.
Excerpt from PhotoPlus magazine.
To see the article in full please click here
The Canon imagePROGRAF PRO-1000 has won the European Photo Printer 2016-2017 award from EISA (European Imaging and Sound Association).
Please click here or below to see the article.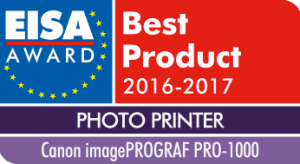 Buyers Lab have made the imagePROGRAF PRO-4000s/PRO-6000s Series their pick for "Outstanding Poster and Indoor Signage Wide-Format Printer Series"
Please click the logo below to see the article: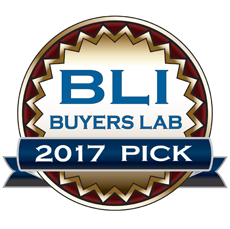 BLi Buyers Lab has completed a comparison between the Canon imagePROGRAF PRO-6000S & HP Z6800,  please click below to view the report:
Canon imagePROGRAF PRO-6000S vs HP Z6800
Buyers Lab have made the imagePROGRAF PRO-2000/PRO-4000 Series their pick for "Outstanding Professional Photo and Fine Art Wide-Format Printer Series"
Please click the logo below to see the article: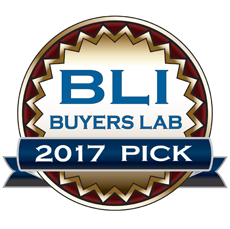 The Canon imagePROGRAF PRO-1000 has won Best Photo Printer at the TIPA (Technical Image Press Association) Awards.
Please click here or below to see the award page.

Canon have been working closely with Aston Martin and Hackett London to provide the ultimate in capture-to-print workflow during a recent advertising campaign photoshoot.
Aston Martin and Hackett London are both prestigious, luxury British brands who take pride in the quality of the products that they manufacture. It was therefore no surprise that they engaged with world renowned fashion, beauty and portrait photographers Clive Booth and Bill Waters who, aided by Canon Europe, delivered a truly best-in-class project to reflect their brand values.
A 12 ink Canon imagePROGRAF PRO-4000 was a key part of the photoshoot, allowing Clive to immediately print captured images and show Hackett the colour-accurate proofs, instilling total confidence as to how good they would look once the finished 'Look book' was produced in volume using a Canon C10000VP Digital Press.
To watch the video please click here or on the below image: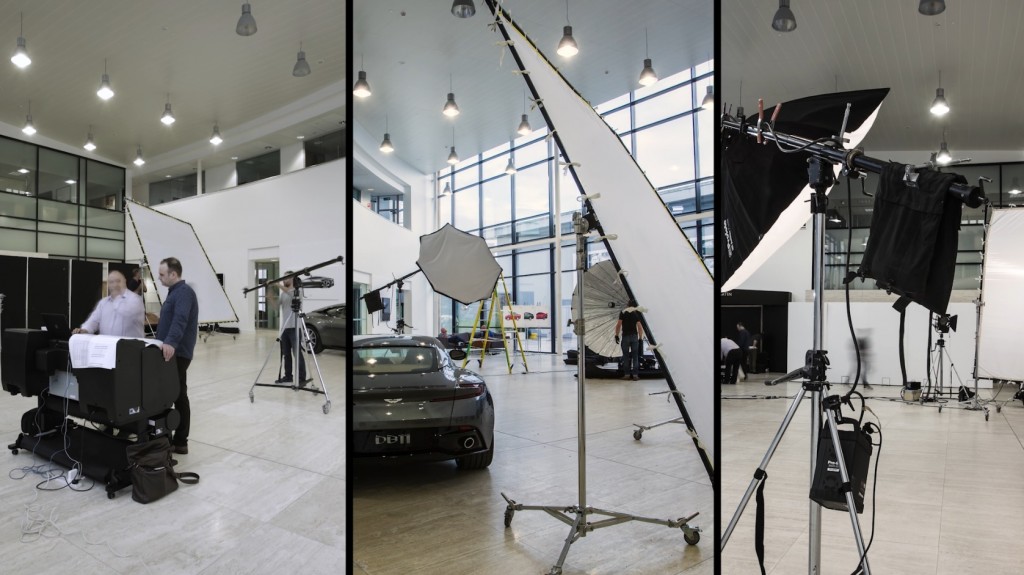 Keith Cooper of Northlight Images has produced a thorough review of the Impressora Pro Photo media collection using a Canon imagePROGRAF PRO-2000:
For Keith's full review please click here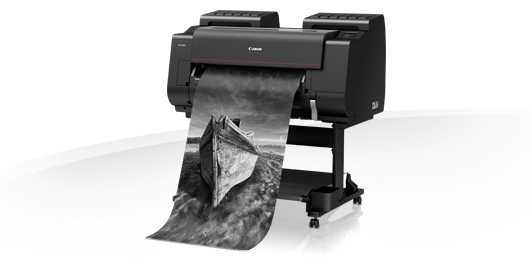 BLi Buyers Lab has completed a comparison between the Canon imagePROGRAF PRO-4000S & HP Z6200,  please click below to view the report:
Canon imagePROGRAF PRO-4000S vs HP Z6200
Canon Inc have confirmed that Apple has officially released an update to MAC OS Sierra (version 10.12.1)
This has resolved some communication issues with Canon printers. For more detailed information about the features and update process, please
visit the Sierra preview page.
Please see the list of printers below that drivers are now available for, download them from here.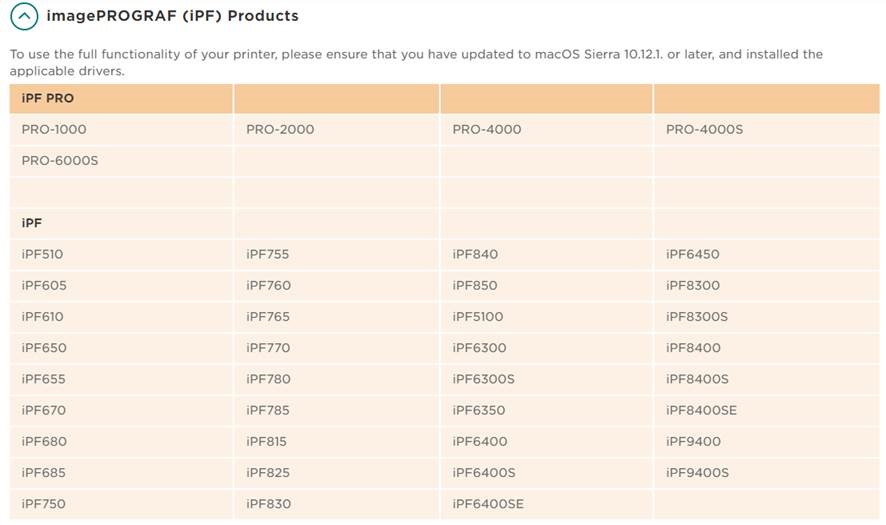 The Canon imagePROGRAF PRO-1000 has won the EISA (European Imaging And Sound Association) award for Best European Photo Printer 2016-2017.
Please click here to visit the award page
Canon has announced its new UVgel printing technology that will soon feature in a new line of roll-to-roll printers.
To see the press release please click here
Innova Art Announces Approval of Canon imagePROGRAF PRO series of printers for use with Innova Media, please click on text or image below to see the full press release :
Innova Press Release – Canon PRO series printers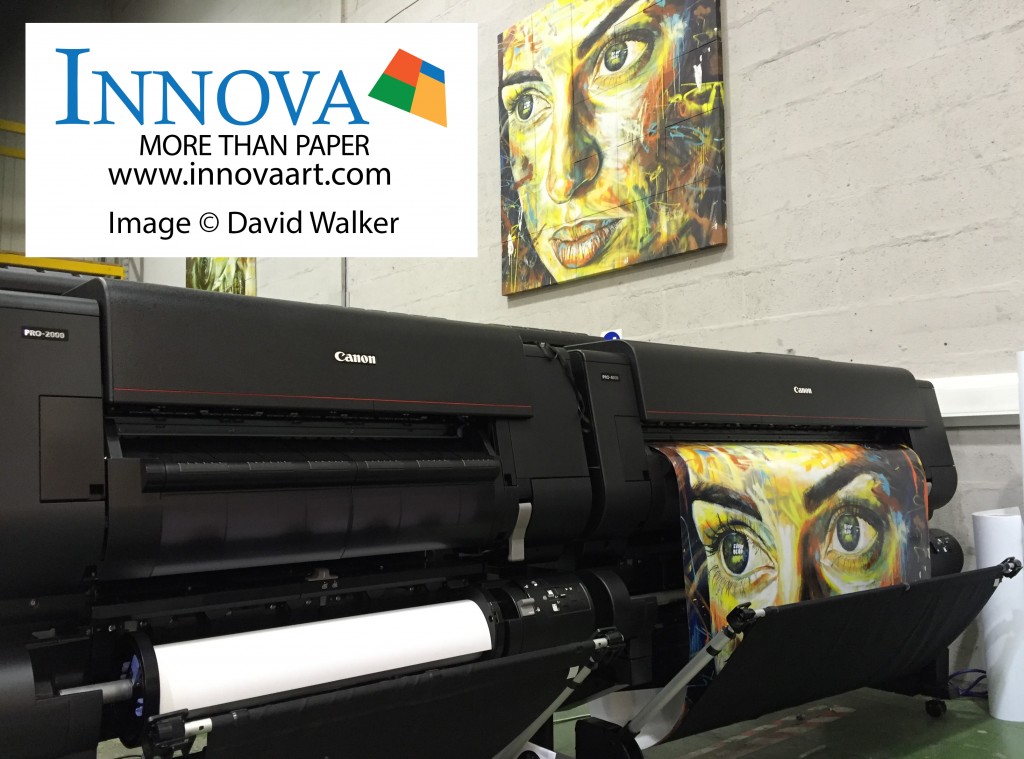 Keith Cooper of Northlight Images has produced a thorough review of the PRO-2000, please see a quote from his summary below:
"The summary would be that this is Canon's best large format printer yet, with the reformulated ink set with the Colour Optimiser (gloss coat) showing improvements on many papers over the previous models.
The new inks and printer produce better quality black and white prints with minimal fine tuning and adjustment. Changes are subtle but noticeable if you compare a black and white print with the older printers under artificial light.
The printer is appreciably bigger and heavier than the old iPF6400, but has the capacity for larger ink cartridges, up to 700ml. It also has an internal hard disk as standard"
For Keith's full review please click here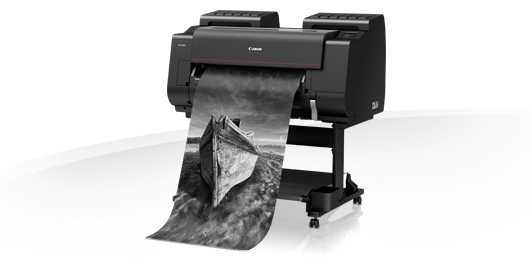 Is your Canon ImagePROGRAF large format printer out of warranty….?
Onsite Service Contracts – Onsite Repair with Pre-Agreement Inspection plus access to MyLFP Support Desk, this means not only will your machine get a service but you also have the benefit of breakdown cover for a year afterwards! T's & C's Apply.
Remember, MyLFP.com has got you covered…
All you need to do is register and then you can post your questions to the forum, they will be answered by the MyLFP Support Desk, a fellow member or if required a MyLFP engineer.
Remember, MyLFP.com has got you covered…
Register your Canon ImagePROGRAF large format printer for full access to instructional, comparison, hints, tips and case study videos.
Everything you need to get the best out of your Canon ImagePROGRAF printer all in one place
Remember, MyLFP.com has got you covered…
An independent, free to use dedicated support website for all Canon ImagePROGRAF Large Format Printer users, information on all current Canon imagePROGRAF range, product information, brochure & driver downloads.
If you have an issue why not check out our FAQ page or post a question on the forum and our tech guys will give you some advice.
Last but not least our video page allows members to look at hints and tips videos including printer driver settings and how to videos on many subjects which will be added to regularly.
MyLFP.com has got you covered…
Access support materials and stay informed: Registering with MyLFP is 100% FREE and will allow you to:
Register your printer warranty (UK Only)
Book service calls (UK Only)
Browse frequently asked questions
Access to unique support videos
Simple links to find all Canon LFP drivers
Engage with other Canon LFP users in the member's forum
Receive technical updates from the MYLFP support desk via the news feed and the "did you know page" (coming soon)
Browse the latest models from Canon and gather information on running costs and possible upgrade opportunity's
Don't delay register on MyLFP.com today!
In recent tests by BLI (Buyers Laboratory LLP) the Canon iPF785MFP outperformed HP's T2530MFP in the majority of categories tested. BLI's report shows that Canon system delivered greater productivity in print, copy and scan modes, in fact copy speeds were significantly faster whereas print and scans were often twice as fast. Click here for the full report.
MyLFP engineers have been selected to test the new Canon imagePROGRAF PRO-4000 printer prior to it's worldwide launch.
Although we are testing a pre-production / development unit our first impressions of the printer are very good. The new features work well and the print quality via the new ink is stunning.
We would like to pass our thanks to Canon Europe for making this possible and we will publish a full report on the Pro-4000 nearer to its release date.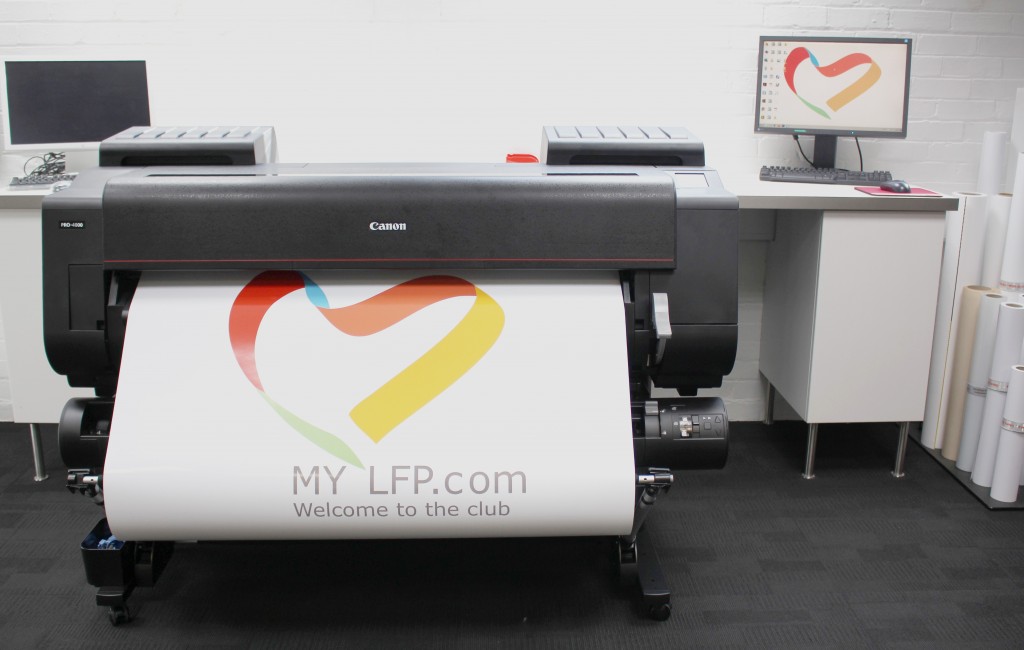 If the first part of your serial number falls within the serial number catchment below then you are able to purchase an L24 (if you have the iPF670) or L36 (if you have the iPF770) to turn your printer into a fully functioning MFP system!!!!
iPF670 – BACR
iPF770 – BACH
Contact your Canon authorised re-seller for more details
Your serial number is located on the rear of the printer and will be 4 letters (which you need to match to the above) followed by 4 numbers, please see below for reference: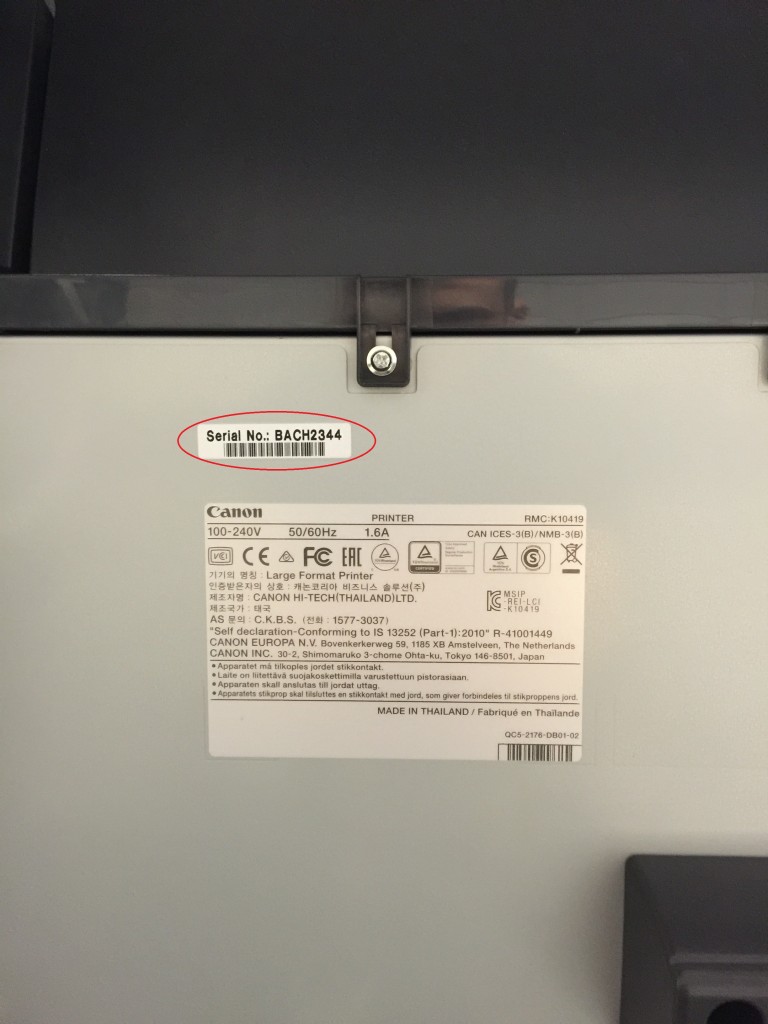 Please click on the photo below to see a review of the Canon imagePROGRAF PRO-1000 by Jaron Schneider Editor in Chief of ResourceMagOnline entitled "The Canon imagePROGRAF PRO-1000 is the best experience I've ever had with a Photo Printer"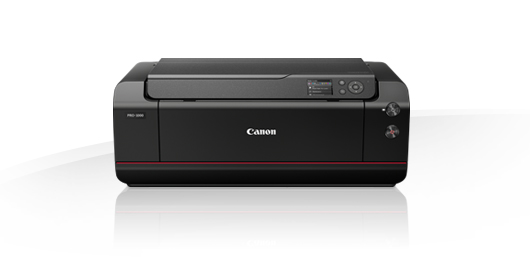 At MyLFP we have produced a quick unofficial comparison guide between the Epson SC-P800 & the Canon Pro-1000 for reference: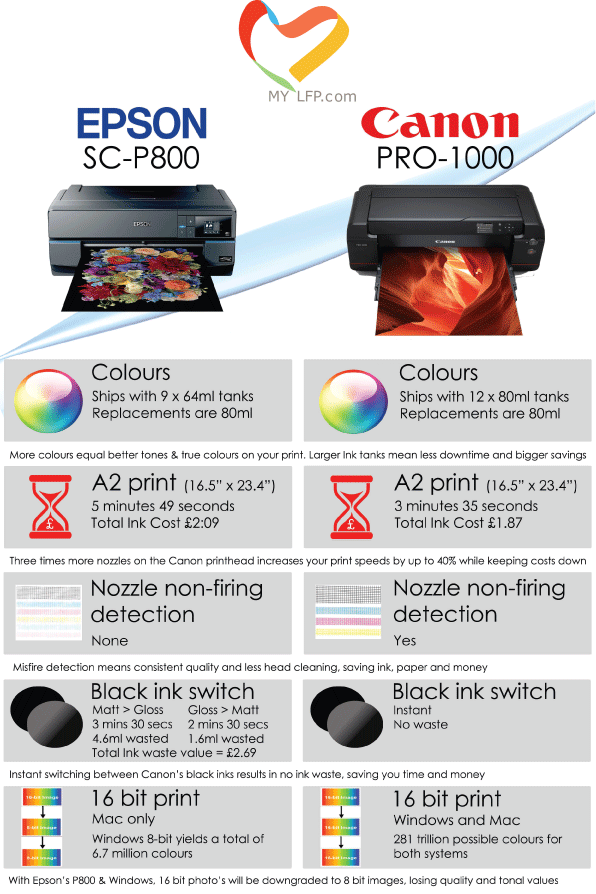 LONDON, 04 March 2015 – Canon Europe, world leader in imaging solutions, has today announced a new range of imagePROGRAF PRO large format professional inkjet printers. The new imagePROGRAF PRO-2000 and imagePROGRAF PRO-4000 are designed to bring stunning image quality to professional photographers and fine art applications, while the new imagePROGRAF PRO-4000S and imagePROGRAF PRO-6000S deliver fast and reliable printing to high-volume print service providers that require photo quality prints such as posters, banners and canvas.
Superior image quality for professional users
The 12-colour PRO-2000 and PRO-4000 enable the full clarity and texture of photographs taken with a Canon EOS camera to be perfectly reproduced. Thanks to Canon's unique input-output technology and Crystal-fidelity feature, photos look as accurate printed as when they were captured. Available in two sizes (24" and 44") the PRO-2000 and PRO-4000 feature an attractive black design with an accentuated red line, denoting the link with Canon EOS digital cameras. The new devices use newly developed LUCIA PRO pigment ink to meet the demands of the most critical photographers and graphic artists, as well as transparent Chroma Optimiser ink to improve print performance on gloss paper.
Mathew Faulkner, European Marketing Manager for Wide Format Group, Canon Europe says "At Canon, we understand the importance of fine detail and precise colours to professional users. Images shot on even mid-range cameras can be very high resolution, and with the ability of today's image editing software, this demands a highly accurate and colour-consistent output. The powerful technology of the new PRO-2000 and PRO-4000 models, not only provide incredible image reproduction, but the small footprint makes them ideal for any office, studio or design department."
Unbeatable efficiency for print service providers
Also available in two sizes, (44" and 60"), the PRO-4000S and PRO-6000S boast an ergonomic compact design, which is ideal for time and space-pressed print operations in graphic arts, advertising and creative sectors. With a powerful L-COA PRO engine capable of processing large volumes of high-res images and data with ease, the new devices enable poster-quality printing at twice the speed of current imagePROGRAF 8 colour models. Full connectivity and Wi-Fi functionality ensures optimum productivity for busy environments.
Mathew Faulkner continues, "Whether for PSPs or in-house print departments in retailers or educational facilities, the trend towards more operational efficiency and on-demand printing is undeniable. There is a growing requirement not only for high quality imaging, but for ease of use and efficient media handling, as well as high-speed and uninterrupted printing to support high-volume output. These fundamental tools require a powerful and dependable large format printer. The PRO-4000S and PRO-6000S deliver speed, accuracy and colour vibrancy, making them ideal for both print-for-pay and print-for-use environments."
The new devices feature Canon's unique dual roll technology to support continuous paper feeding and take-up of printed output, while direct printing from a USB memory stick enables fast and easy prints. The imagePROGRAF PRO series is further improved by the new precision 1.28" wide print head and high-capacity ink tanks for fast, uninterrupted printing.
The new imagePROGRAF series will be available across Europe from the middle of 2016
Keep an eye on the website as we will let you know once we have received a demo unit to test!
Canon's UK distributor, Velmex Distribution saw record Canon LFP sales during 2015.
'In 2015 our Canon printer sales increased by around 20% compared to the previous year' said Mark Keeley, Managing Director of Velmex Distribution. 'Canon also saw significant growth across Europe with record market share in almost all territories'.
Keeley also explained what was behind this success 'We are seeing sales increase as more customers become aware of the benefits of using Canon technology. Our sales are particular strong with users upgrading from other manufacturers large format printers to Canon. These experienced users quickly identify the key benefits Canon printers offer, print quality, speed, reliability, software tools and total cost of ownership. Our success has not been limited to any one market sector as we have seen sales increase in the technical (CAD market), production printing, photographic and fine art markets'.
Keeley was also optimistic looking forward to 2016. 'We are also forecasting a very strong 2016 as Canon introduce new models across the range. For the technical & copy shop market we are introducing the Canon imagePROGRAF iPF670 MFP L24 and Canon imagePROGRAF iPF770 MFP L36 multi functional devices. These are 24" (A1+) and 36" (A0+) respectively which can print, copy, scan to archive & scan to email. The new MFP's offer low cost of ownership, a small footprint design with ease of operation'.
'Later in the year we will launch the Canon imagePROGRAF PRO series of printers. The first model to launch will be the Canon imagePROGRAF PRO 1000, an A2+ size cut sheet model for the photographic market. This new model will be quickly followed by four new larger printers, the Canon imagePROGRAF PRO 2000 (24") & Canon imagePROGRAF PRO 4000 (44") printers for the photographic & fine art markets. Alongside these new models we will also be introducing the Canon imagePROGRAF PRO 4000S (44") & Canon imagePROGRAF PRO 6000S (60") printers designed for high volume, production environments. All these printers will use the new Canon LUCIA PRO ink set which offers stunning print quality, fast dry times with high durability'.
Canon Europe, world leader in imaging solutions today announces the launch of two new entry-level large format MFP's (multi-function printers) – the Canon imagePROGRAF iPF670 MFP L24 & imagePROGRAF iPF770 MFP L36. The new devices offer convenient print, scan and copy functionality to small businesses in the architecture, engineering and construction, manufacturing, and education sectors. Click the links below for more info on each model:
http://mylfp.com/Videos/introducing-the-canon-ipf670-mfp-l24-ipf770-mfp-l36/
http://www.canon-europe.com/for_work/products/professional_print/large_format/ipf670_mfp_l24/
http://www.canon-europe.com/for_work/products/professional_print/large_format/ipf770_mfp_l36/