The Canon imagePROGRAF PRO and TX range have super intelligent paper feed systems, but sometimes the media itself can be being poorly loaded on the roll or very loose. This can cause paper feed and print errors due to the media not being straight, otherwise known as "skewed".
Although the printer's automatic Skew Detection will usually de-skew the media without intervention, this error can also be due to the Skew Detection Accuracy being incorrectly set. Customers can easily reset the Skew Detection to Standard by following these simple steps…
On the Touch Screen LCD simply tap the paper that is skewed (Roll 1 or 2) to open the sub menu:
Tap Advanced
Tap Skew Detection Accuracy
Select Standard
In extreme circumstances realigning the media may require manual intervention by lifting the media cover and paper lever and then straightening the media against the orange line on the right of the platen (A). To make life even easier, the touch screen LCD panel will guide them through every step.
To enhance and support the ongoing success of the new Canon imagePROGRAF TM series, please click here to watch a video to help enable you to quickly and easily absorb the benefits of the powerful TM-200 L24ei MFP and TM-300 L36ei MFP series scanners.
The benefits are:
New, colour, touch screen control.

Small and ultra-quiet, ideal for the noise sensitive environment.

Scan documents while printing, no need to wait.

Scan documents to PC, Copy, Cloud or save direct to a USB stick.

Scan small documents and enlarge them to poster size, brilliant for office presentations, etc.

Long lasting, water resistant pigment inks mean prints stay sharp and crisp in UV rich or damp environments.
The ability to easily print from a USB stick is also a massive "user favourite" feature of the TM series, as well as being a huge hit with the owners of the PRO and TX machines…accessibility and ease of use has never been so simple.
To learn more about the TM-200 L24ei MFP and TM-300 L36ei MFP, please use the links below:
Almost all products have a competitor & the new Canon TM Series is no exception.
An independent, professional test comparison was conducted by Buyers Lab International (BLI), where they tested the new Canon TM-200 against the Epson SureColor SC-T3200.
Out of the 7 main test criteria the Canon TM-200 was superior in 6, and equal to the Epson SureColor SC-T3200 in 1:
Superior Image Quality

Superior Print Productivity

Superior Ink Consumption

Superior Direct Print Submission Functionality

Superior Device Feature Set

Superior Print Driver Feature Set

Equal Printhead Reliability/ Cleaning Routines 
"Overall whilst producing better image quality overall while printing at faster speeds the Canon TM-200 also used less ink than the Epson SureColor SC-T3200. Better feature sets and direct print functionality were also deciding factors in establishing the Canon TM-200 as the superior printer"
Canon printheads are incredible precision instruments, so the actual alignment is crucial to achieving the professional results that only Canon printers can.
Occasionally, all large format printers may experience slight misalignment of the printheads resulting in fine lines or misplaced colour on the print where the printhead has shifted microscopically. Possibly due to vibrations when the printer is being relocated.
The remedy for misalignment couldn't be easier, and your customers can be printing fantastic results within seconds, with no technical know-how required.
On the PRO and TX series for example, your customers can execute the following sequence via the touch screen LCD on the printer:
– Tap Maintenance
– Tap Print Head Alignment
– Select Auto (standard) or Auto (fine)*
– Confirm Yes and select the paper source
A test pattern will be generated while the printhead is realigned automatically by the printer.
That's all there is to it…job done! Isn't that easy?
The new Canon imagePROGRAF TX series can process CAD data, including HP-GL/2 – up to twice the speed of previous models thanks to the incredibly powerful dual Canon L-COA PRO processors built into every printer in the range, leading to tangible productivity gains that mean less time spent waiting at the printer and more time designing and generating business for your customers.
Canon developed the original L-COA chip specifically for large format printers in order to process high-volume image data at high speed, while simultaneously controlling the image processing and printer functions, and still output incredible high-definition prints.  An amazing feat of engineering developed entirely in-house based on Canon's heritage in producing image processing engines for scanners, printers and our vast range of photographic equipment.
The dual L-COA PRO does all of this, with rendering capabilities that are at up to twice as fast of their predecessors. The imagePROGRAF TX series is truly a real-time 
and money saver.
Check out the TX Series Introduction Video Here: https://staging.mylfp.com/Videos/canon-tx-series-overview-video/
The brand new Canon PRO-6000 60inch Photo and Fine Art printer has a wealth of advantages over the Epson SC-P20000 model and is perfect for any quality-conscious customers looking for the
ultimate in high definition inkjet printing. The PRO-6000 is smaller, comes with nearly four times as much ink in the box as the nearest equivalent Epson (that's almost 4 litres of ink worth a staggering £1,800 at RRP) and produces images that clearly and easily demonstrate why the Canon imagePROGRAF PRO series cannot be equalled in the large format inkjet market.
With class-leading running costs and ink usage of up to 25% lower than its Epson rival, the new imagePROGRAF PRO-6000 is, pound for pound, the heavyweight champion of high-end photo and fine art printing.
See below for a comparison on how the two machines stack up against each other:
International fashion illustrator Megan Hess, famous for illustrating the best-selling novel Sex and the City, is using Canon's PRO series of imagePROGRAF printers to bring her printing in house,
which she says gives her more control over the finished product. "The benefit of printing in house is that I can keep a close eye over the detail, which is a fundamental aspect of my design
process. Partnering with Canon gives me the peace of mind that the exact colours, the line work, and detail is reproduced precisely as I envisioned it," she said.
Megan uses the imagePROGRAF PRO-1000 and imagePROGRAF PRO-2000, to produce her prints. She believes her work increases in value when printed, saying "In our automated and digital society anything that's hand drawn, handmade, hand crafted or hand printed becomes really valuable. I'm excited to be part of the printing process using Canon because I know my work is truly valued when it becomes a piece of tangible art, or is something I can share with someone."
Check out this YouTube link to see Megan share how she uses Canon imagePROGRAF printers to create beautiful artwork for her clients – https://staging.mylfp.com/Videos/megan-hess-and-the-power-of-print/
Canon Europe has launched its new 12-colour 60-inch large format professional inkjet printer to complete the award-winning imagePROGRAF PRO series. The PRO-6000 offers unsurpassed photo printing with a 12-colour ink system, dual-roll printing for excellent productivity and a space-saving design.
The PRO-6000 is consistently superior in print quality
The wide colour gamut of the PRO-6000 enables photographic output of exceptional quality, which is now available in 60 inches. Ideal for advertisements, graphics, and posters for indoor and outdoor use, the PRO-6000 features the newly developed LUCIA PRO pigment ink and transparent Chroma Optimiser ink for printing with excellent colour expression, superior black reproduction, good gloss characteristics and suppression of bronzing. Thanks to Canon's unique input-output technology and Crystal-fidelity feature, photos look as accurate printed as when they were captured, thus meeting the demands of the most critical photographers and graphic arts designers.
Unbeatable efficiency and productivity
The newly developed Multifunction Roll System enables unattended use for multiple purposes using different media types with a single printer. In addition, simultaneous loading of the two types of black ink allows loss-free and automatic ink switching across various media. With a powerful L-COA PRO high-speed image processing engine, the new PRO-6000 is capable of processing large volumes of high-res images and data with ease. As a result, the new device enables poster-quality printing at a faster speed of current imagePROGRAF 12-colour models. Full connectivity and Wi-Fi functionality ensures optimum productivity for busy environments through seamless integration with existing networks. The compact design of the PRO-6000 also makes it ideal for space-pressed print operations and other businesses that had forgone the introduction of a large format printer.
Hiroaki Shirakawa, LFP Product Management Manager, Canon Europe, states: "The imagePROGRAF PRO series is dedicated to a high balance between print quality and productivity. Efficient media handling, and high-speed uninterrupted printing to support high-volume output are fast becoming fundamental requirements for both print-for-pay and print-for-use environments. As an imaging company, we understand the importance of fine detail and precise colours to professional users. For discerning photographers and graphic artists, the stunning quality output and powerful technology of our 12-colour devices is unmatched by the competition. Naturally, we are very excited to have completed the PRO suite of printers and to begin rolling out the new imagePROGRAF PRO-6000 this year."
The Canon imagePROGRAF PRO-1000 has won Best Photo Printer at the TIPA (Technical Image Press Association) Awards.
Please click here or below to see the award page.

Canon Inc have confirmed that Apple has officially released an update to MAC OS Sierra (version 10.12.1)
This has resolved some communication issues with Canon printers. For more detailed information about the features and update process, please
visit the Sierra preview page.
Please see the list of printers below that drivers are now available for, download them from here.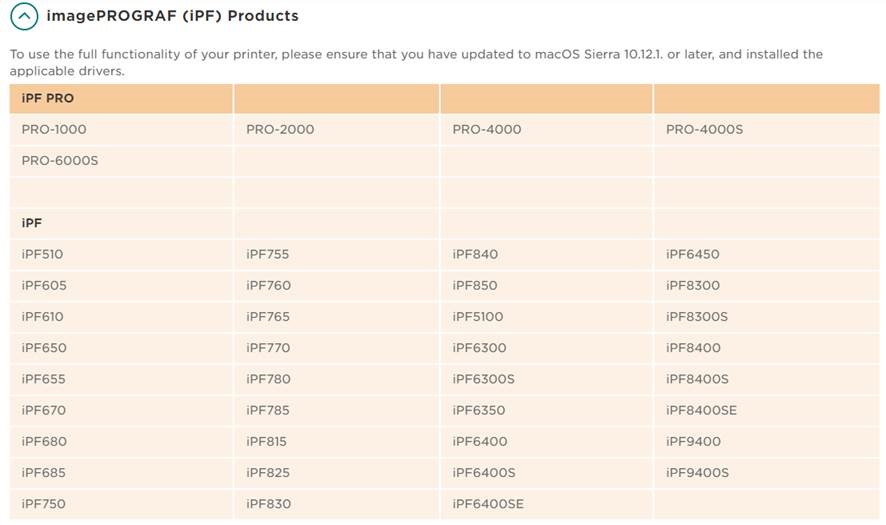 Is your Canon ImagePROGRAF large format printer out of warranty….?
Onsite Service Contracts – Onsite Repair with Pre-Agreement Inspection plus access to MyLFP Support Desk, this means not only will your machine get a service but you also have the benefit of breakdown cover for a year afterwards! T's & C's Apply.
Remember, MyLFP.com has got you covered…
All you need to do is register and then you can post your questions to the forum, they will be answered by the MyLFP Support Desk, a fellow member or if required a MyLFP engineer.
Remember, MyLFP.com has got you covered…
Register your Canon ImagePROGRAF large format printer for full access to instructional, comparison, hints, tips and case study videos.
Everything you need to get the best out of your Canon ImagePROGRAF printer all in one place
Remember, MyLFP.com has got you covered…
An independent, free to use dedicated support website for all Canon ImagePROGRAF Large Format Printer users, information on all current Canon imagePROGRAF range, product information, brochure & driver downloads.
If you have an issue why not check out our FAQ page or post a question on the forum and our tech guys will give you some advice.
Last but not least our video page allows members to look at hints and tips videos including printer driver settings and how to videos on many subjects which will be added to regularly.
MyLFP.com has got you covered…
Access support materials and stay informed: Registering with MyLFP is 100% FREE and will allow you to:
Register your printer warranty (UK Only)
Book service calls (UK Only)
Browse frequently asked questions
Access to unique support videos
Simple links to find all Canon LFP drivers
Engage with other Canon LFP users in the member's forum
Receive technical updates from the MYLFP support desk via the news feed and the "did you know page" (coming soon)
Browse the latest models from Canon and gather information on running costs and possible upgrade opportunity's
Don't delay register on MyLFP.com today!
In recent tests by BLI (Buyers Laboratory LLP) the Canon iPF785MFP outperformed HP's T2530MFP in the majority of categories tested. BLI's report shows that Canon system delivered greater productivity in print, copy and scan modes, in fact copy speeds were significantly faster whereas print and scans were often twice as fast. Click here for the full report.
If the first part of your serial number falls within the serial number catchment below then you are able to purchase an L24 (if you have the iPF670) or L36 (if you have the iPF770) to turn your printer into a fully functioning MFP system!!!!
iPF670 – BACR
iPF770 – BACH
Contact your Canon authorised re-seller for more details
Your serial number is located on the rear of the printer and will be 4 letters (which you need to match to the above) followed by 4 numbers, please see below for reference: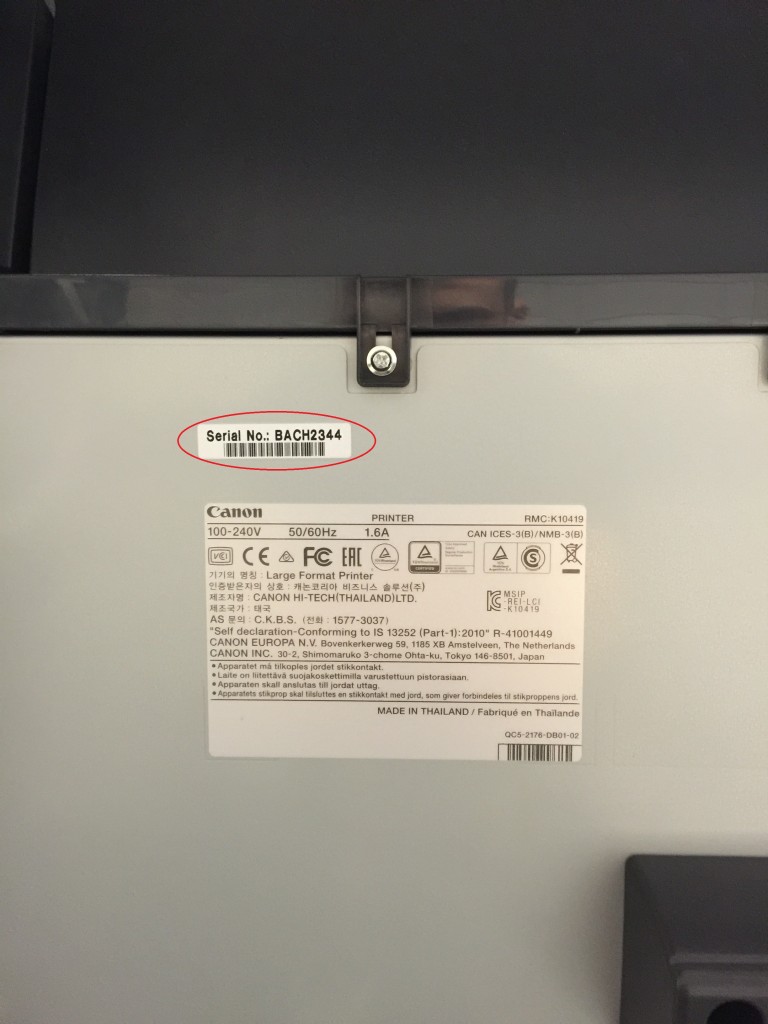 Canon's UK distributor, Velmex Distribution saw record Canon LFP sales during 2015.
'In 2015 our Canon printer sales increased by around 20% compared to the previous year' said Mark Keeley, Managing Director of Velmex Distribution. 'Canon also saw significant growth across Europe with record market share in almost all territories'.
Keeley also explained what was behind this success 'We are seeing sales increase as more customers become aware of the benefits of using Canon technology. Our sales are particular strong with users upgrading from other manufacturers large format printers to Canon. These experienced users quickly identify the key benefits Canon printers offer, print quality, speed, reliability, software tools and total cost of ownership. Our success has not been limited to any one market sector as we have seen sales increase in the technical (CAD market), production printing, photographic and fine art markets'.
Keeley was also optimistic looking forward to 2016. 'We are also forecasting a very strong 2016 as Canon introduce new models across the range. For the technical & copy shop market we are introducing the Canon imagePROGRAF iPF670 MFP L24 and Canon imagePROGRAF iPF770 MFP L36 multi functional devices. These are 24" (A1+) and 36" (A0+) respectively which can print, copy, scan to archive & scan to email. The new MFP's offer low cost of ownership, a small footprint design with ease of operation'.
'Later in the year we will launch the Canon imagePROGRAF PRO series of printers. The first model to launch will be the Canon imagePROGRAF PRO 1000, an A2+ size cut sheet model for the photographic market. This new model will be quickly followed by four new larger printers, the Canon imagePROGRAF PRO 2000 (24") & Canon imagePROGRAF PRO 4000 (44") printers for the photographic & fine art markets. Alongside these new models we will also be introducing the Canon imagePROGRAF PRO 4000S (44") & Canon imagePROGRAF PRO 6000S (60") printers designed for high volume, production environments. All these printers will use the new Canon LUCIA PRO ink set which offers stunning print quality, fast dry times with high durability'.
Canon Europe, world leader in imaging solutions today announces the launch of two new entry-level large format MFP's (multi-function printers) – the Canon imagePROGRAF iPF670 MFP L24 & imagePROGRAF iPF770 MFP L36. The new devices offer convenient print, scan and copy functionality to small businesses in the architecture, engineering and construction, manufacturing, and education sectors. Click the links below for more info on each model:
http://mylfp.com/Videos/introducing-the-canon-ipf670-mfp-l24-ipf770-mfp-l36/
http://www.canon-europe.com/for_work/products/professional_print/large_format/ipf670_mfp_l24/
http://www.canon-europe.com/for_work/products/professional_print/large_format/ipf770_mfp_l36/