Some media types produce a small amount of dust during cutting, Backlit Film and Canvas for example, over time.
It could build up and impact the printer's output quality and printhead performance…but don't panic, the clever bods at Canon have recognised this and built in a cut-dust reduction ability.
When using dust producing media, it's recommended that your customers safeguard the health of their valuable printer by setting the Cut Dust Reduction to ON via the touch screen menu. This will coat the leading and trailing edges of their print with a thin line of ink which greatly reduces the possibility of dust being produced.*
To activate the cut-dust reduction simply complete the following process.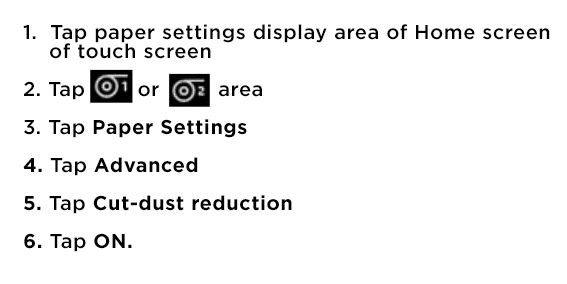 And there you have it. Six simple steps to even more hassle-free and productive printing.
Canon imagePROGRAF – Thought and care built in